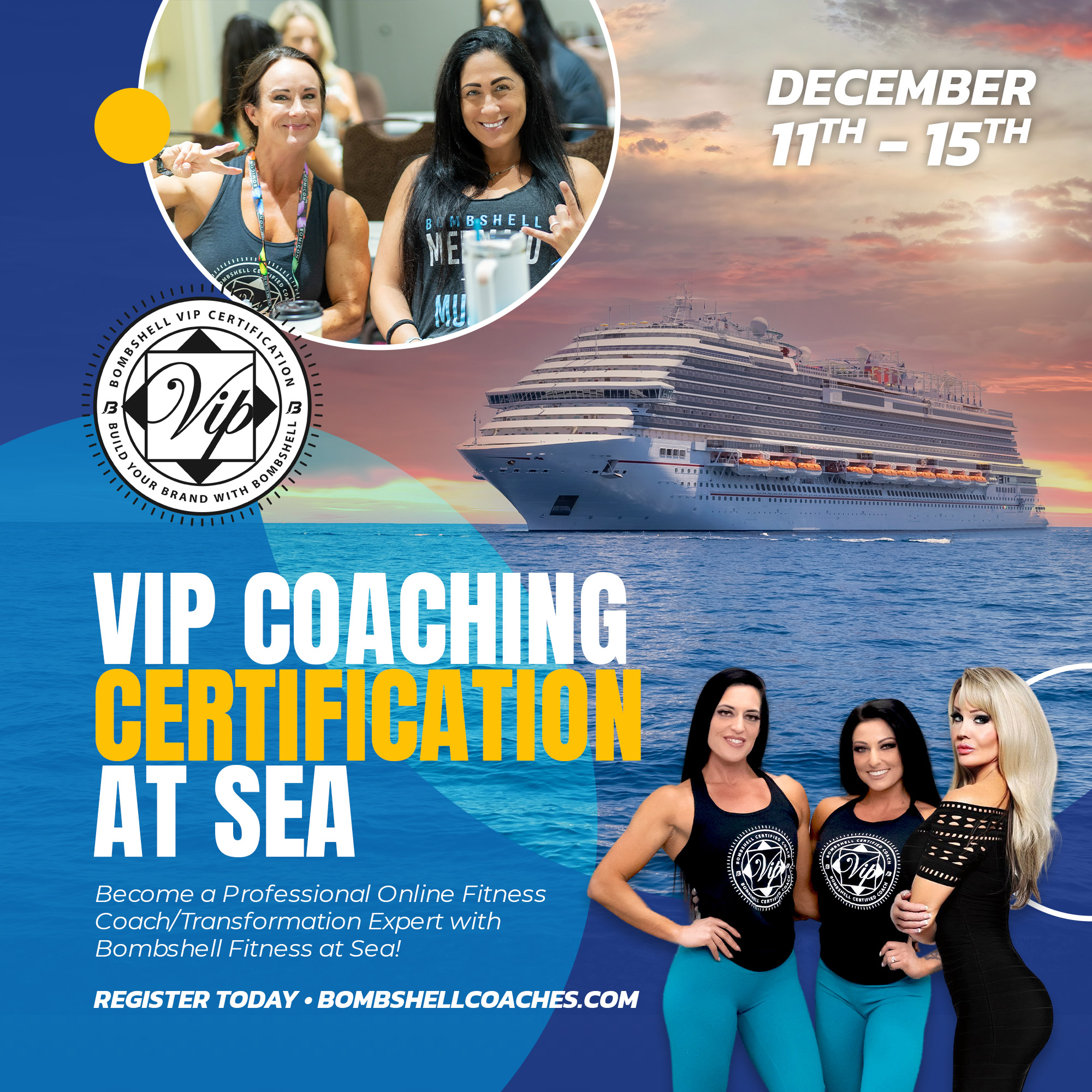 Get your Bombshell VIP Coaching Certification at SEA!
The NEXT Bombshell VIP Coach Certification will be held on December 13th. Sailing dates are from December 11th-15th on The Liberty by Carnival from Port Canaveral, Florida.
Join our ENTIRE Bombshell Inc. Staff, Master Coaches, and current Bombshell VIP Coaches on a Cruise!
Not only will you complete your certification course but you will ALSO at NO additional cost, receive the following:
Individual and group photos for use in Marketing in 2024.
TWO additional Specialty Certifications:

Bombshell Booty Specialist (ALL)
Bombshell Lifestyle Specialist (B-Transformed)
Posing & Presentation Specialist (B-Competitive)

The opportunity to get to know your NEW Bombshell Family including group social activities, dinners, and MORE!
VIP Recertification
Beginning in 2024, all VIP Coaches will be required to take Recertification. The Recertification being offered on this cruise will be valid until January 2025.
Cost listed INCLUDES:
Cruise Cabin (You choose cabin type and either alone or with a guest. Guest may not be a fellow VIP Coach.)
Bombshell VIP Coach Certification
Bombshell VIP Coach Photoshoot (Individual photos taken in groups)
Two specialty certification courses
Group cruise activities
Group cruise dinner seating
All Taxes & Fees (Gratuity not included)
Cabins are limited/available on a First Come, First Serve basis.
You are responsible for:
Gratuities
Transportation to & from the ship
Additional flights before and/or after sailing
Additional hotel stays before and/or after sailing
Excursions
Liquor
Wifi
Additional on-board purchases
If you are interested in upgrading to a Suite Cabin, please contact events@bombshellfitness.com
Certification & Cruise Registration Form
Registration cutoff date is August 10th!
Starting at $1,549
Recertification Starting at - $1,049